Hiya people Eternal Soul here, with an invitation to all the Triguild Alliance; a trip to Endless Tower and try to get as high as we can or die trying

To those who've never been on Endless Tower I'll give a brief explanation, for more detailed information check this link: http://irowiki.org/wiki/Endless_Tower_Quest#collapsibleTable0 Long story short there's a dungeon we can enter in Alberta with loooooooooooots of floors each filled with baddies you want to kill and with a surprise mini-boss or MVP once in a while. To move to the next floor you need to kill all the mobs in the current floor. I think this will be a fun place to go; the place is challenging but kooky enough to not be frustrating as long as we don't take it too seriously. I extend the invitation to all the guilds using these forums, since this is the kinda thing where it is more fun with a full party. I'm planning to do this on April 23rd, I was going to post the time for every possible time zone, but I just found out there is way too many countries and the US seems to have 6 different time zones instead of 3 like I thought (no idea if I'm right). So I will tell the time in IRO time, if you want to know exactly when it is in your country don't hesitate to ask

Endless Tower – April 23rd, 10am (Pacific Time) / 1pm (Eastern Time)
Let's have fun people!!!
- Eternal Soul -
Hello! I'm going at Endless Tower. I'll use two char (angelgabriel (Arch Bishop) and Ende M. (Biochemist)).

YEAH!!! Still haven't decided if I'll go with Anima or Spoony (cause I didn't want to lose exp with him), but I will definetly be there! Since Spoony seems more useful and he does have maxed Rainstorm and Lvl 2 Gloomy Shyness for all Knights and Palladins I might just throw caution to the wind and go with Spoony

- Eternal Soul -
That Drake was a tough cookie

We went through the floors just fine until the 5th floor where GTB was... Since the party was still small we died like once or twice but GTB isn't agressive, we regrouped and finally killed it

Everything went fine from there until the 10th floor where we faced Mistress... I had nightmares about this insect this last night, we died, died, died, died, died, died, died, died and died some more. We added some more people to the party and we still died horribly. To tell you the truth I have no idea how we killed her but we did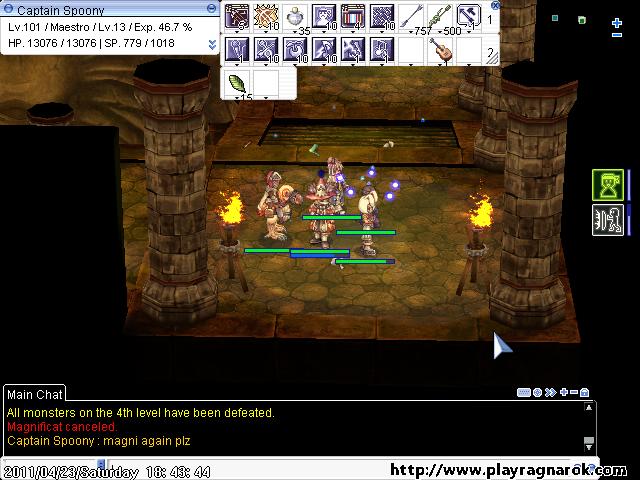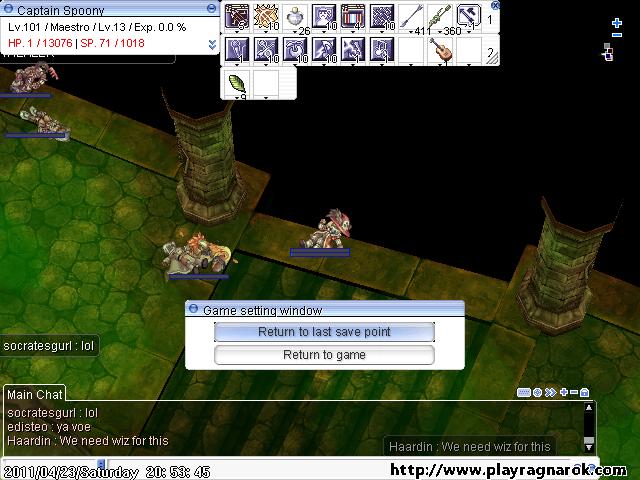 After that we kept on moving up the floors, raking up the kill count. And finally on the 20th floor we met out maker; Drake is an evil undead pirate with a nasty attitude and 1 hit kill skills (at least he killed me with one hit). Given enough time and I'm sure we could have taken him down, since he didn't heal himself like Mistress, but repeatable deaths and the fact some other members had to do stuff made us leave about an hour early. But despite dieing all that much I can say I had fun and that the majority of the participants had too. I'm looking forward to doing it again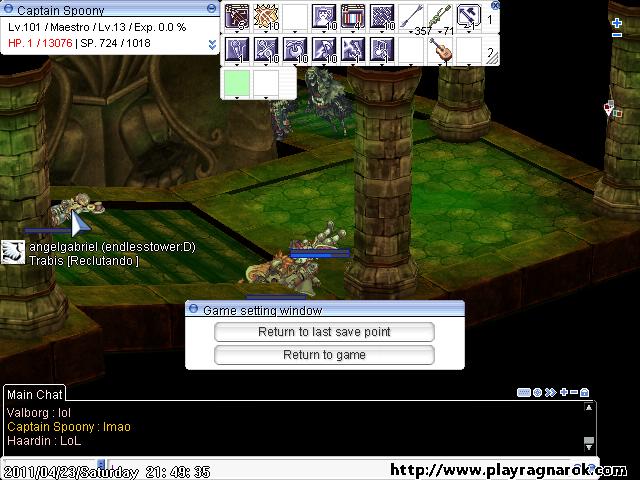 Although next time i might bring a pillow, the stone floor is quite hard on my back

Here are the guildies that participated:
Icarus
Captain Spoony (me)
Kuroi Tori
Majumi Wong (with her GX)
Trabis
angelgabriel
Red9
sofphie (with her Ninja)
Valborg
Ainur
Monk Ashely
To all those from other guilds that tagged along I give my thanks too
- Eternal Soul -
I invite you for two day of ET: Friday (May 5th) and Saturday (May 6th).

"Drop penalty removed 5/5-5/12 see below"
Maintenance link:
http://forums.warpportal.com/index.php?/topic/35064-55-maintenance/

---
Permissions in this forum:
You
cannot
reply to topics in this forum