All Passwords Force Changed
Due to recent brute forced hacking that have been occuring due to poor passwords. To remedy this before it gets further out of hand all RO game accounts now have their Passwords changed.
For further information on Password changing please read: Guide to Changing the PW on WarpPortal.
LINK: http://forums.warpportal.com/index.php?showtopic=9332&st=0

If you don't have the Game account tied to a WarpPortal account, now would be a great time to do so. Also if you can't access the email address the game account was registered too you will need to do an email change. Contact the WarpPortal Support team.
LINK: https://support.warpportal.com/Main/Default.aspx

Thank you,
GM


Last edited by Angel Gabriel on Thu Oct 07, 2010 5:44 am; edited 2 times in total
Guide to Changing the PW on WarpPortal.
Here is the Knowledgebase article. https://support.warp...warpportal.aspx
How to Change your Game account PW using WarpPortal!
First thing is to visit http://warpportal.com, and login with your WarpPortal Account.
Second you want to click on the Game Accounts button circled in Orange.
Resized to 98% (was 734 x 466) - Click image to enlarge
For this example I'm changing the 1st game account, click on Edit next to the Game account name.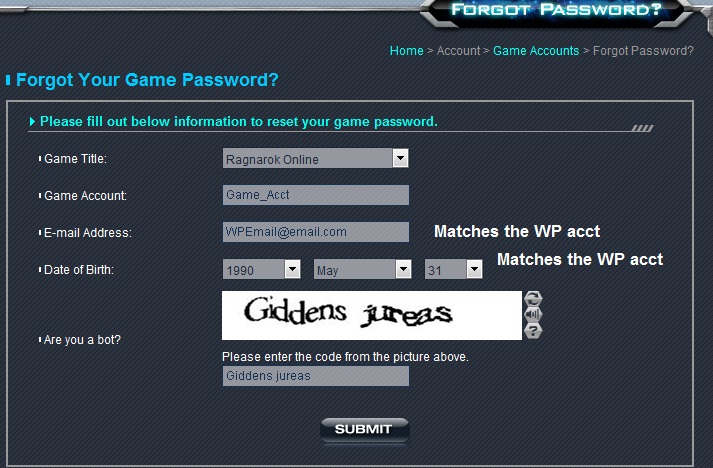 Normally you can change the Password here, if you know the prior password. If you do not know the current Password, click on the "*Forgot Your Game Password" link that is circled in the image.
Resized to 98% (was 729 x 576) - Click image to enlarge
Fill in the information fields. Eventually those fields will be auto filled with the appropriate information, but for now you must put in the information. If you have problems remembering the email and birthdate registered to the account, keep in mind it will exactly match the WarpPortal accounts information that is provided when you click on the "Account Information" link on the left hand side of the webpage (not shown above). Click Submit once filled out
You will get an email sent to your registered email address.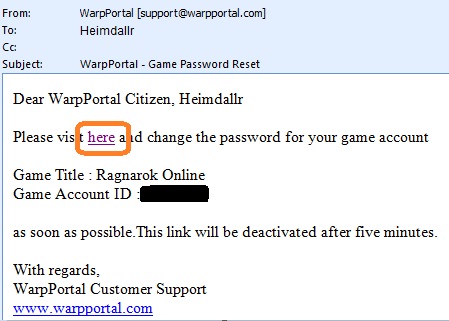 Click on the "Here" You will be sent back to WarpPortal page; if you must login again, do so, then click the here again from the email.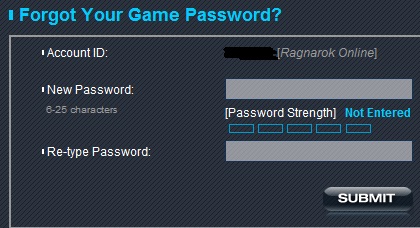 Fill in a new password that you've not used before, for security, and click submit! If you need to update the email address to reset the password, or to bind a game account to the WarpPortal, please contact us via the Support Ticket system. Thank you, WarpPortal Support Team
DAMNNNNNNNNNNNNNNNNNNNNNNN!!



Posts

: 25


Join date

: 2010-07-30



EMAIL CHANGE OR FORGOT EMAIL
https://support.warpportal.com/Main/Default.aspx
Select "Submit Ticket"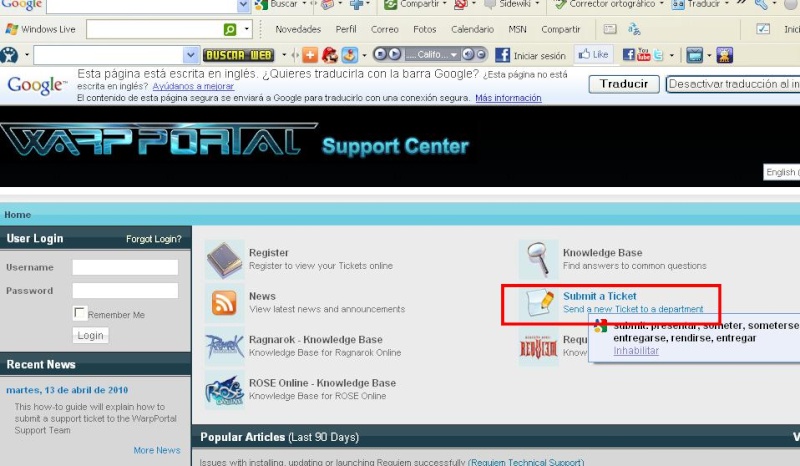 Select "Ragnarok Support"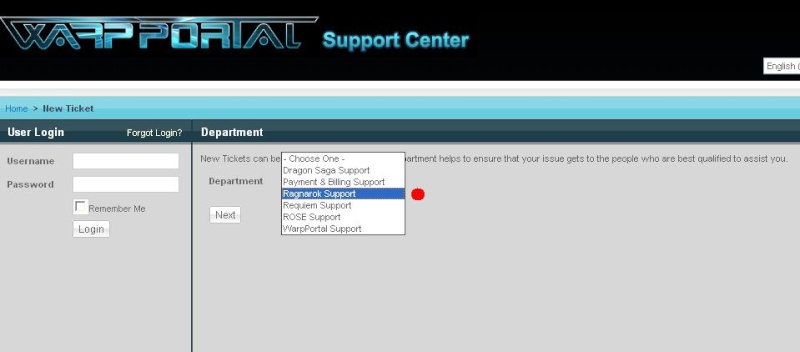 Enter your email you are using. The old account name, password and the your char's name. If you can attach picture (photos) to prove it is their char, much better. Explain the reasons for your problem, Example: if you forgot your e-mail or you want change email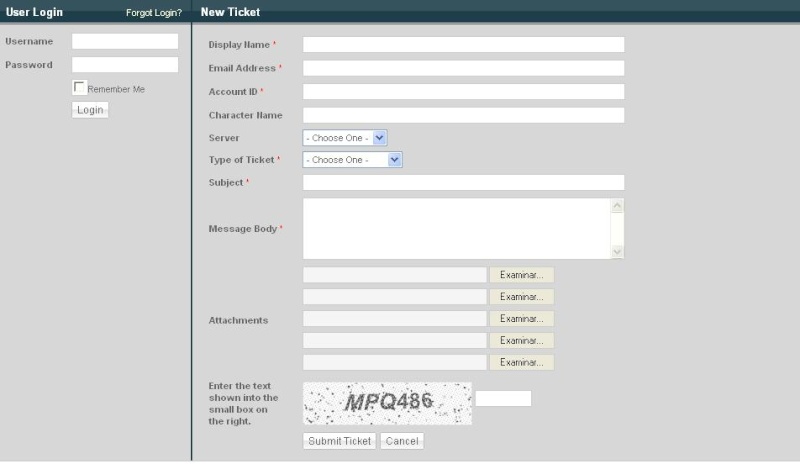 ---
Permissions in this forum:
You
cannot
reply to topics in this forum